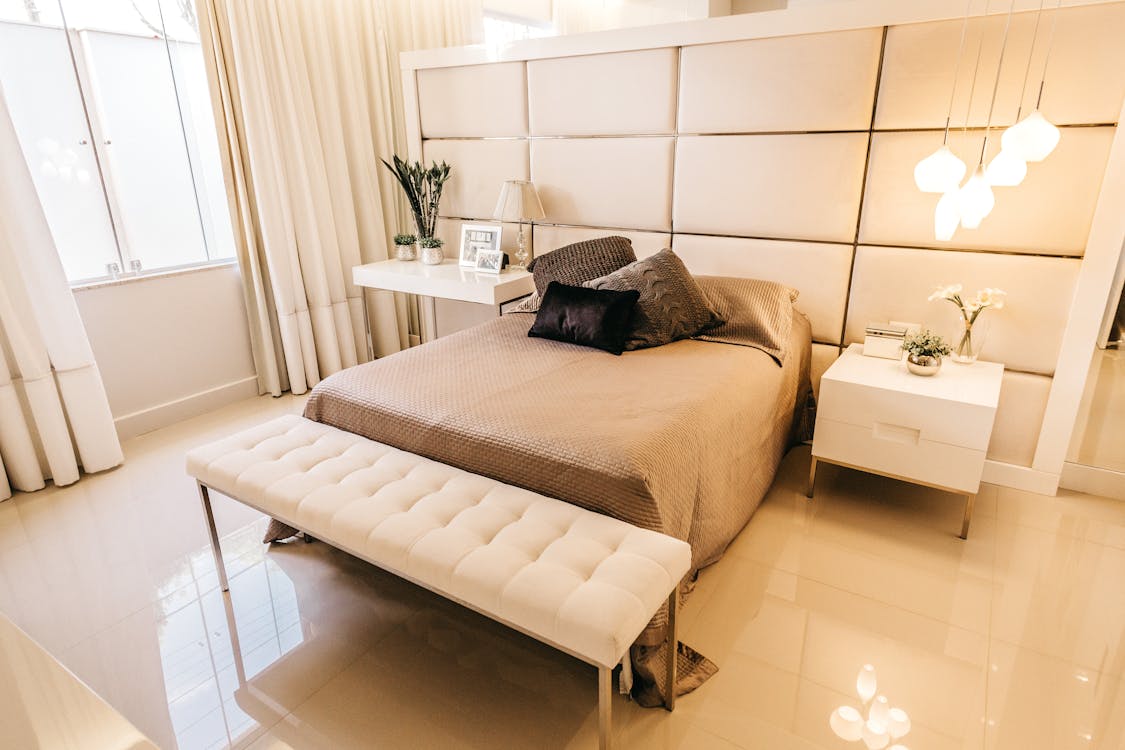 Have you ever stayed at a hotel or Airbnb and noticed how nice the bedroom is? It may leave you wondering how you can create the same air of luxury in your bedroom. The great thing about it is that you do not have to spend that much money in order to transform your bedroom into the luxury sleeping quarters of your dreams.
Now that you know how to add the simple luxuries to your home, you can apply that same knowledge to making your bedroom the luxurious room of them all. Here are our best tips on how to add luxury to your bedroom. Keep in mind some tips are simple while others may require a little more effort no matter if you spend a ton of money or you use Bensons discount codes to get a luxurious new mattress. Whatever you decide to do, by following just a few of these tips you can be sure that your bedroom will be transformed.
Get Rid of Clutter
This is what will separate your space from luxury and a regular run-of-the-mill room. If you want your room to look like a million bucks, you have to give it a good clean and that includes getting rid of any clutter. When you have luxurious space, it means that you have space in your room to be luxurious. You cannot live your luxury life when there are clothes and pizza boxes littered across the floor. Get your floors clear of any access clutter and try your hardest not to store things like workout equipment, unread books or folded clothing. The more floor space you have, the more luxurious your room will feel.
Add A Tray
You will be surprised what a simple touch like adding a nice tray to your bedside table can do to make your room look like an expensive interior designer decorated it. The awesome thing about this tip is that you do not have to spend a ton of money on the actual tray itself. You could even go so far as to thrifting a tray and making it look nice DIY style. The tray is a smart touch because it can help hold all your miscellaneous knickknacks that don't necessarily have a home. These are things like jewelry, perfume, or collectibles. It just does a very good job of making sure everything flows. If that does not scream luxury, we do not know what does.
Add Some Greenery
Adding a green plant to space will give your room the most luxurious feeling of them all. Plants can do that. Bring out your vases that are beautiful and fill them with some live flowers and slap them on your nightstand. In addition to some flowers, you can also bring out that old dusty pot and put a hanging plant in it. This could be something like a fern or a pothos.
Add A Hanging Light
If you have the luxury of recessed light fixtures, you could get handy and replace one of them with a hanging light. That is an inexpensive way to make your room look way more expensive. You could opt for a small chandelier, a pendant, or a drum-shade fixture. Whatever style you are going for, be sure that the light fixture is proportionate to the rest of your room. The great thing about these light fixtures is that you can purchase them from anywhere like Homegoods, Target or World Market. All of these stores are great.
Throw Blankets, For The Win
Instantly add luxury to your room with a great throw blanket. You can add it to the foot of your bed, or you can get one of those boho blanket ladders and swing onto that. Pay close attention to the type of material your blanket is made out of as well. Make sure that your throw blanket is made out of fuzzy wool, velour, silk, velvet or faux fur. Do your best to stay away from patterns, although there are some patterns that may give off that luxurious vibe. Ultimately, you want to make sure that the blanket is solid in color, animal print or a very subtle design.
Add Crown Moldings
It is absolutely amazing how this small detail can amplify the luxurious status in your room. We get it; not every house or apartment comes with these already, but if you have the DIY spirit you could certainly get this done yourself. All it takes is some measurement and a trip to your local hardware store. You can opt to spring the molding, cut and paint it yourself or you can go for the adhesive kind which can definitely pass off as professional so long as you are looking up at it and not head-on. There are options.
Get A Statment Piece
Your statement piece can be one piece of large artwork or it can be several little artworks that all flow together. Maybe your statement piece is a lot of small collectibles that you have accumulated. It could even be a quilt. Whatever that statement piece is, make sure that it gives your room some personality. One thing about luxury is that it is often custom-made. You do not want your room to feel like it is cookie-cutter and there are several others that look just like it.
Raise Your Curtains
This is especially a great tip if you are someone who lives in a boxy room. It can be quite difficult to make a room like that luxurious, though it is not impossible. One of the best ways to do this is to raise your curtains. This will give off the appearance that you have more space. The goal is to see to it that your drapes hang to the floor, but not drag. You can do this by setting your curtain rod an inch or below the ceiling line. Instant elegance!
Swap Out Your Lampshades
Plain, old, faded, stained, damaged, lampshades do not scream luxury. It just screams. Do yourself a favor and swap those out for some new, updated lampshades. Replace your old and frumpy shades with something a little more interesting and updated. If you are looking for the lux vibe, you want to go for a rich-hued shade, a shade with a pleasing pattern or a shade with metallic accents. Be sure that you stick to the classic look of lampshades though. You do not want to go overboard with the embellishments.
Swap Out Your Hardware
Instead of buying brand new furniture, you could simply swap out the hardware you have on your existing furniture. The hardware could be anything from your drawer pull knobs to your doorknobs. When looking for replacement hardware, you want to look for glass or metal hardware. This gives it some pizzaz without being tacky. All you have to do is screw it into place and bam! You have yourself an updated, luxurious room with the hardware to match. Now you do not have to waste a ton of money on new furniture because the new hardware will make it look as good as new.
Paint Your Walls Or Add Wallpaper
This is a great way to add some personality to your room. Stark white walls are overrated unless you are a minimalist. You want your room to look more designed than anything and adding some paint or wallpaper to the walls will definitely get the job done. Make sure that whatever colors you go with, it adds some contrast to your bedroom furniture.